Touche Pas à Mes Données
Defend and protect your digital personality
It's no longer a question, of IF but WHEN cyberspace becomes hostile to you!
6000
offenses recorded in Switzerland
85%
offenses are not reported to the police
constantly increasing figures
Context
Lately in the internet's world, data protection has become a very hard task to achieve. Would you happen to know? That you can remove a picture from yourself on the web, if it was posted without your consen, or protect your internet identity, with very simple tools to handle. Cyberspace holds a universal reputation of a lawless platform allowing freedom of action and expression without taking any responsibilities. Think again! Your data has the right to be protected and deserves to be defended! You too, learn to safely surf or defend your digital data from misuse by third parties. Since we are constantly connected in today's world, most tools we use could provide al sorts of litigation possibilities, therefore exposed to all kinds of vulnerabilities. TPMD will help you if you feel guarded (smartphone or e-mail) or harassed. TPMD will advise you if you are concerned about being a (the) victim of identity theft, or if you are being blackmailed online. TPMD will assist you to keep your data constantly available available constantly, integrally and confidentially to avoid loss, (theft stolen identity) or modification.
A question ? A problem ? Are you concerned about your private sphere or the use made of your data?
So whether you're an individual or a micro-business, TPMD is there to support you in securing your cyberspace, combining security, technology and law.
Services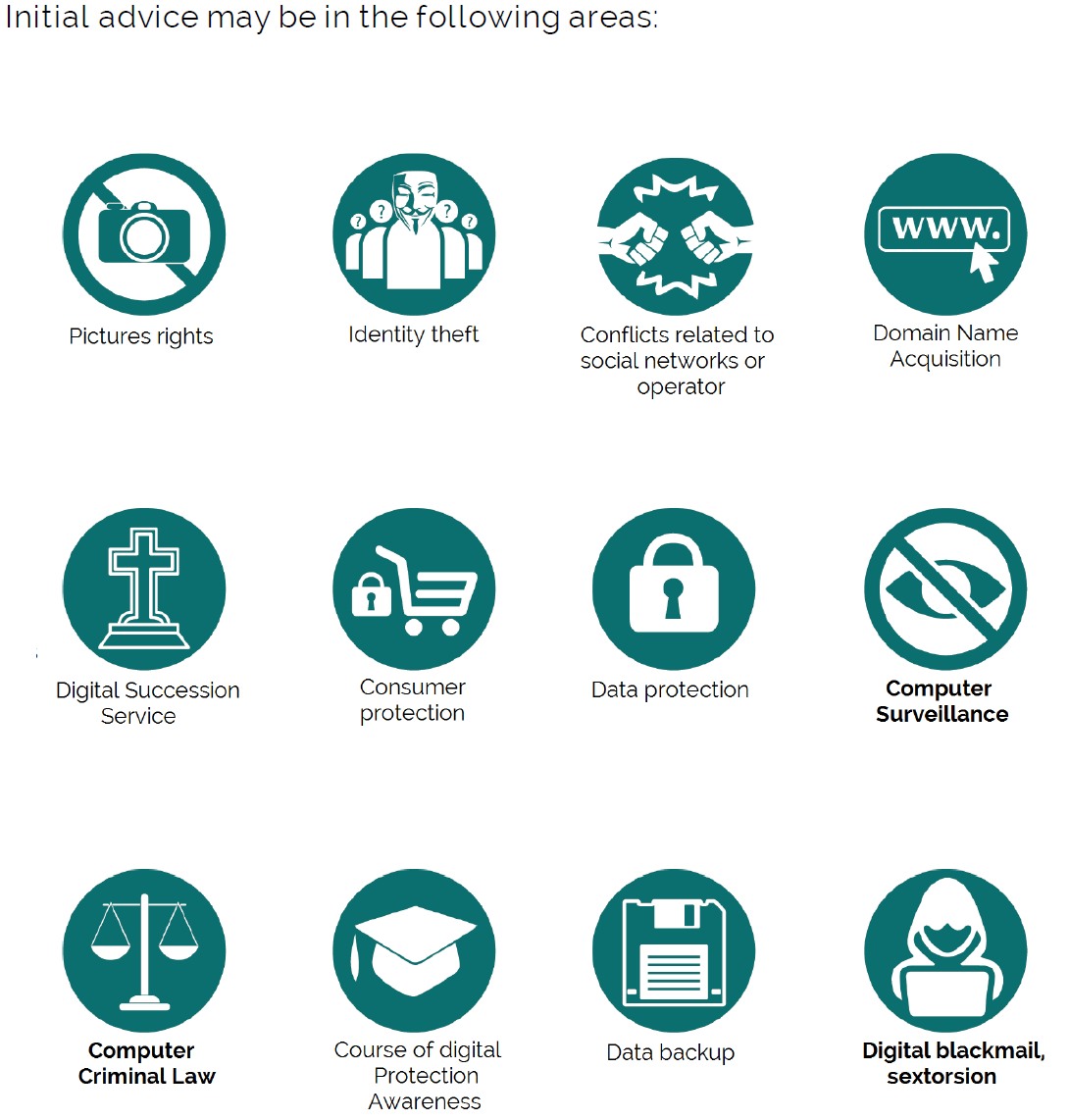 Prices
| Services | Rate type | Prices |
| --- | --- | --- |
| First tip | Unique | CHF 45.- |
| Accompanying procedures after first advice | Per hour | CHF 200.- |
| Awareness course on digital protection (social engineering) | Per hour (45 min) | CHF 200.- |
| Procedure for defferencing (right to forget) and tips | Unique | CHF 300.- |
| Dispute resolution assistance in case of: Conflicts related to social networks (Facebook, Instagram, Twitter etc.) E-commerce scams Harassment, identity theft Phishing, spam, rançongiel Digital blackmail, sextorsion | Unique | CHF 300.- |
| Digital Succession Service: Before death: help with digital heritage planning After death: help with the recovery and closing of digital services | Unique | CHF 300.- |
| Data backup (2 maximum) | Unique | CHF 300.- |
| Removing spyware on your devices (2 maximum) | Unique | CHF 300.- |
| Strengthening your devices (2 maximum) | Unique | CHF 300.- |
| Data backup, spyware removal and enhancement of your devices (2 maximum) | Unique | CHF 875.- |
| TPMD certifications (3 levels: bronze, silver, gold) | Annuel | On demand |
Contact
Any questions ? Contact TPMD
By phone, telegram or WhatsApp: +41765221193
By Skype: live:david.ferreira_28
Monday, Tuesday, Wednesday and Fryday 9 am - 12 pm et 2 pm - 5 pm Thursday2 pm - 5 pm
Meeting in person can be made possible in Geneva or Lausanne, Switzerland
Request
As a starter top open up a file, a fee will be requested in advance as a  first timer, in order to request an advice from TPMD. Furthermore, you  will be given the choice to ask your question, either by email or by  organizing an appointment (provided with a link into a calendar) via  skype, telegram, WhatsApp or phone call. After taking notice of your  claim a proper assessment will be provided to you and the answer will be  returned to you by the means of your selected choice.
Next step, applying the advice provided or, if you prefer, enter in contact with TPMD to request guidance trough the process.